HANDSOME TRANSOMS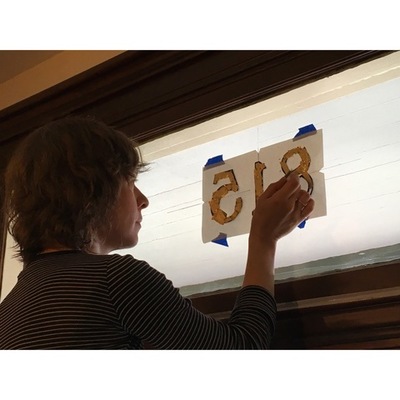 I love creating custom designed & hand painted address numbers for transom windows or door. I can work with you to design a number style for your home or you can choose from some of my favorite styles. I'll hand draft your address number and then use that as the pattern on your home.
sketching out some number styles
There are two possible gold finishes when gilding on glass. One produces a shiny/mirrored effect, the other is a matte/satin gold finish. These finishes can be used alone, or together. (In general, I find that most clients prefer the matte finish when choosing one or the other.) I can also do a matte finish surface gild when there is no window. (see the example of the gold leaf 9 surface gilded above the door on the photo below)
I designed & painted the half-circle faux transom, surface gilded the address number, & gilded the flower design on glass.
I use genuine 23k gold leaf and One Shot brand sign painter's oil enamels for most jobs. Various other metal leafs (such as silver or copper) are available upon request. The finished address number is then coated with a clear varnish to protect it for years to come.
Please allow approximately 6 hours for the completion of your address number on the scheduled install date. I'll need access to the interior of the window to be painted on, a ladder and running water for clean up.
Please contact me at:
erinweckerle@gmail.com
for all inquiries, pricing, and to schedule your transom number installation.
matte gold with black outline & drop shadow
matte gold with black outline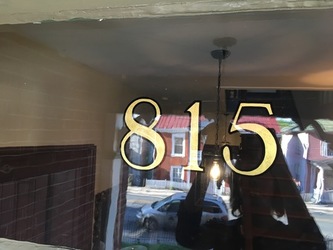 Here's some photos to show the full gilding process from drafting to installation: